ETI has been training skilled welders and HVAC/R technicians in the Chicagoland area for the past 43 years. Our network of graduates is far-reaching and we work to support our alumni in any way we can. One of the ways we help our graduates and alumni is through returnships.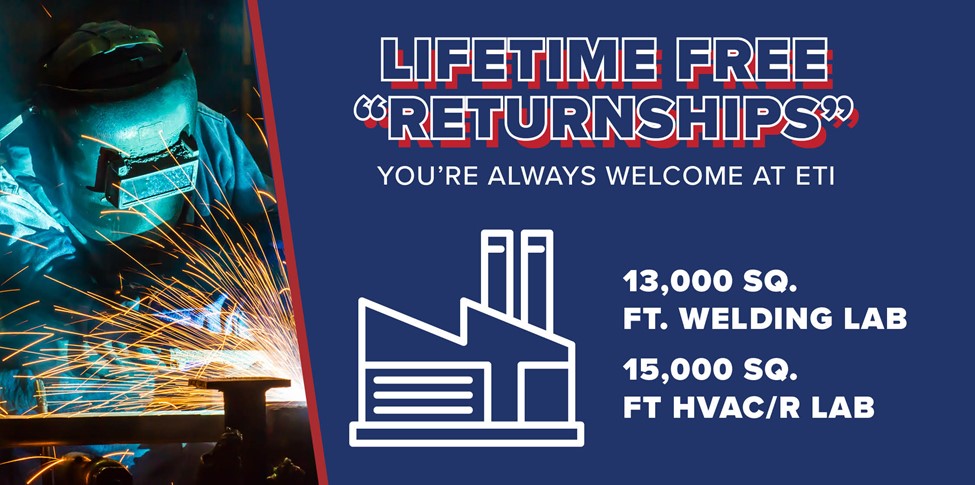 What is a Returnship?
A returnship allows ETI graduates to come back to ETI to brush up on their skills, learn the latest techniques or just practice under the guidance of one of our expert instructors in our state-of-the-art labs. Grads can take any part of any course available at ETI from the program they previously studied.
Who can take advantage of ETI's returnships?
We offer returnships to all ETI alumni for both our HVAC/R and welding programs. Regardless of the program you studied or how long ago you attended ETI, you are always welcome to utilize your returnship. And the best part: it is free for life.
Utilize our more than 15,000 sq. ft HVAC/R lab to brush up on sheet metal fabrication, electrical work, conduit bending, gas piping, refrigeration, diagnostics or anything else you install, repair or replace for HVAC/R equipment. Or use our massive 13,000 sq. ft. welding lab stocked with industry-current Lincoln Electric equipment to perfect your skills in any of the four processes, SMAW, GMAW, GTAW or Flux on plate or pipe.
Why are returnships important for me?
When you want to advance your career beyond your current role with new or improved skills you can practice hands-on with industry-current equipment in either of our labs. Even though you completed your training as an ETI graduate, you may find there are skills and techniques you want to brush up on, questions you have for industry veteran instructors, or facilities and equipment you wouldn't normally have access to for practice. That is exactly why ETI offers returnships for free for life to our grads. We want you to capitalize on your education and get an even greater return on your investment through returnships.
ETI offers lifetime free returnships to all our graduates. *Current students are given first priority, available upon space availability. To inquire about ETI's Returnships, contact us at: (630) 448-8031. To learn more about the current facilities and resources available to graduates visit https://eticampus.edu/resources/graduates-alumni/
Learn more: